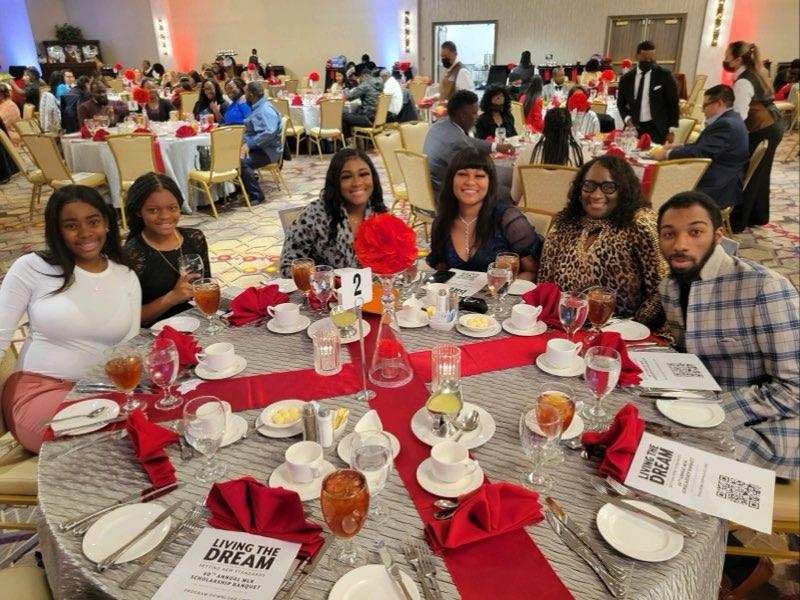 Posted January 20, 2022
Four Tensas trend-setters are fresh off of an exciting adventure! No, we're not talking about a local public official or a media personality. But that's who these trend-setters were rubbing elbows with for the past week.
Arion Thomas (Newellton), Ja'Maya Clark and Justin Davis (Waterproof), and Shakira Turner (St. Joseph) were part of a group of local students who participated this past October in the launch of a technology training program at Tensas High School. The aim was, in a few short months, to have some notable achievements in one of the smallest American towns—St. Joseph, Louisiana and one of Louisiana's most economically underserved parishes—Tensas.
The virtual learning program that the students participated in was provided by Nevada Help Desk—an after-school learning technology program. They are a national apprenticeship training program under the US Department of Labor that enrolls high school and post-secondary students to train, certify and employ them in the field of technology. Their goal is to get the next generation prepared for the future of technology and filling those jobs that are currently in demand.
This program was made available to youth of Tensas Parish thanks to efforts of Wendell P. Williams of Las Vegas, Nevada. Mr. Williams, formerly of St. Joseph, Louisiana, insisted that the national program begin by directly engaging students in Tensas Parish. So far, one student has graduated, but 4 students traveled to Las Vegas to participate in the annual Martin Luther King, Jr. festivities including an annual Technology Summit courtesy of a partnership with the City of Las Vegas Strong Future Technology. The students traveled Thursday from Jackson, Mississippi. They attended the summit on Friday and the annual scholarship banquet on Saturday night at the Orleans Hotel in Las Vegas. On Monday, they were seated with a Tensas delegation at the annual Martin Luther King, Jr. parade in Las Vegas.
The technology summit exposed the students to the opportunity to see current advancements in technology. They were put in front of change-makers and decision-makers such as program sponsors and partners, Google and Verizon. FBI special agents were in attendance to interact with students with awesome robots.
One student has been studying Google Analytics. Another has already received certification in graphic design. Students understand that there are really no limits—whatever they can conceive, they can achieve in technology. They interacted with other students from as far away as London.
Thanks to the generosity of donors, including a local Task Force put into place to guide, monitor and support the effort, expenses for air travel, hotel lodging, meals, ground transportation, and more were covered for the students and their chaperone, Brittany Raymo.
Another round of classes is slated to begin soon.  For more information, contact Rod Webb, Project Leader at 318.372.4735   wbsmuv@aol.com   or Mary Earl Johnson at 601.806.5707, Professional Educational Advisor.