Letter from the Vice-President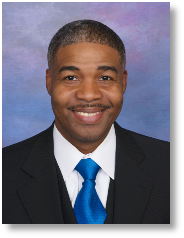 Dear Fellow Tensasans
Grace and peace to each of you.
This past year has been amazing as we felt the hand of God move and bless our efforts and the work he has assigned to my hands. A country boy born and raised 26 miles south of Tallulah, 13 miles north of Saint Joseph, 33 miles west of Winnsboro and 8 miles east of the Mississippi River and to now reside in the capital city of Baton Rouge, Louisiana God has certainly been good to me.
To have been elected to the Tensas Reunion Incorporated board as vice president is both an honor and humbling testimony to the depth of the roots of Tensas Parish. To be the baby in the 1968 yearbook of Tensas Rosenwald, the son of a Rosenwald bus driver and school teacher keeps me steeped in the traditions of my heritage. I am indebted to the officers and board members for their commitment to and untiring work toward the continued success of this reunion. The support of Indians, Bears, Tigers, and Warriors is needed as our numbers continue to dwindle as the town's population does the same. We need to teach those who are coming behind us the great and rich legacy that we all have had to privilege to be able to write and come through.
Our towns may have decreased in size but the love and the bond we have for one another surely hasn't. If there was ever a time we needed to come together we most definitely need to now.
Being a part of so many different class reunions in the past I would hope that we would continue to join forces to keep the bond of peace growing between us. We are much stronger and better together than we are apart.
We are believing, anticipating, and expecting that our reunion will prosper if we, as stewards would be faithful and true to our heritage.
In His Service
René F. Brown